Security systems for the home
Everyone likes to feel safe in their own home. We help you keep it that way with home security systems such as intruder alarms, CCTV and personal protection.
Our intruder alarms deter would-be criminals and alert you and the authorities should anything go amiss. Modern CCTV systems provide further reassurance that your property and possessions are safe when you are away from home, whilst an integrated system can protect you and your family from fire and other hazards. By adding personal protection, you can have complete peace of mind that, should something happen when you are at home, a fast response is just a click away.
What do our home security systems do?
Why choose The Alarming Company?
A bell box with The Alarming Company logo tells burglars your property is protected by a reputable and well-known company.
Our NSI accreditation means you can reduce the cost of insurance and ensures that you can trust your installer.
Professionally fitted, quality components reduce the risk of false alarms.
Wire-free systems reduce disruption and can reduce costs.
Easy-to-use control panels that the whole family can operate.
Systems that cannot be triggered by your pets.
We won't blind you with jargon or sales talk.
We won't let you down.
Four steps to a safer home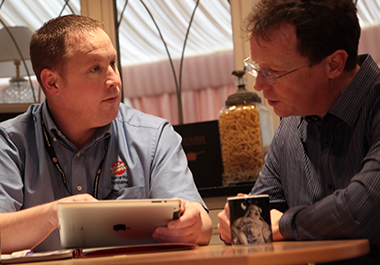 If you think that your home and family could benefit from an alarm system from The Alarming Company, contact us today to arrange a free, no obligation survey. Call us on 01329 314444 or click the buttons below.