Security systems for larger organisations
Managing the security and safety across a large organisation can be a daunting prospect. Multiple locations, activities, stakeholders and suppliers can create a complex landscape in which it can be very difficult to ensure things run smoothly and cost-effectively.
We work with numerous organisations to simplify the security requirement. We help you to review your business needs and current systems before devising appropriate security strategy. We offer the latest developments in security technology, and where necessary we will take on your existing systems.
Why choose The Alarming Company?
Single point-of-contact for account management.
Fast, local and regional response.
Fully accredited for quality and statutory compliance.
Conversant with current procurement practices and bidding procedures.
We won't let you down.
EMCOR Facilities Services Limited

Hampshire County Council

KIER Facilities Services Limited

OneCom

Smeg UK Limited

Southern Co-operatives Limited

The National Grid

The National Trust
More than just a burglar alarm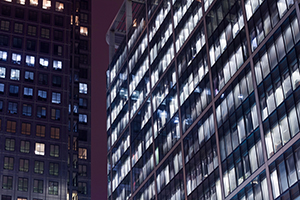 We protect businesses against more than just traditional crime. A high quality security system can offer the additional benefits:
Evidence against litigation
Protection of employees and the public
Access control
Evidence of activity, for example monitoring of server rooms or movement of personnel